О НАС
This is the page of the official online store of Leica Camera AG representative office. You can order any item from leica-store-moscow.ru catalog with home delivery.
To get to know Leica better, we invite you to visit our Moscow salons, where in spacious and light environment you can test-drive any photography equipment.
Each of the salons represents the fullest range of Leica Camera AG products: system and compact cameras, interchangeable lenses, sport and hunting optics, distance-measuring devices for building industry, Leica à la carte and all the needed accessories.
It would be our pleasure to see you among our clients and fans of Leica!
Photography Equipment Boutique City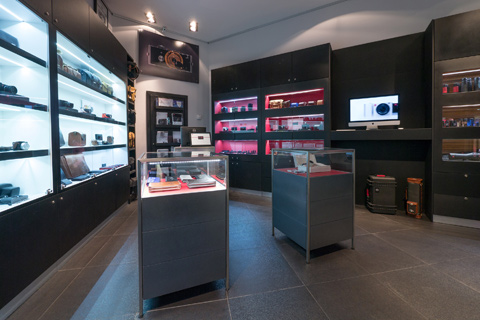 Leica Boutique City — the official Leica premium reseller — is located in the territory of the most impressive business district of Moscow: Moskva-City Moscow International Business Center. City of Capitals skyscraper, where Leica salon is located on the entry level, includes two towers, one of which — Moskva — is the highest tower in Europe. Owing to convenient infrastructure of underground crosswalks and car parks, it is possible to get to Leica salon from any tower of Moskva-City without going out. After a successful purchase, you can view the panorama of Moscow at the height of one of observation platforms and practice shooting with a Leica camera right there.
In Leica Boutique City salon, you can order delivery of the purchase to any part of Russia.
Address: Moskva-City MIBC, City of Capitals Mixed-Use Complex, 8-1 Presnenskaya Riverwalk, Moscow.
Telephone: + 7 (499) 286 00 02
Website: www.boutique-phototechnique-city.ru
E-Mail: leica.CITY@leica-camera.ru
Working hours: Monday to Friday from 9:00 a. m. to 9:00 p. m., Saturday and Sunday from 11:00 a. m. to 9:00 p. m.
Photography Equipment Boutique Novinskiy
Photography Equipment Boutique Novinskiy sells luxury optical brands. The boutique is located in Novinskiy Trade and Business Center, which is conveniently situated in the center of Moscow on Sadovoe Ring Road near its crossing with New Arbat Street. Besides Leica boutique, Novinskiy Center hosts representative offices of leading world companies; salons of premium class clothes, cars and expensive accessories are at the visitors' disposal, also there is a "quarter" of the best restaurants of the capital.
The Photography Equipment Boutique, as all the other Leica salons in Moscow, offers a wide range of services, including individual approach to every client, bonus programs, 12-hour technical and consultation support.
Both amateurs and professionals can find here photography equipment of other legendary brands: Hasselblad, Carl Zeiss, Fujifilm, Steiner, Gitzo tripods, Manfrotto, Billingham bags, Artisan&Artist, National Geographic, Sony cameras.
Address: 31 Novinskiy Boulevard, Moscow
Telephone: + 7 (495) 660 57 50
Website: www.boutique-phototechnique-novinsky.ru
E-Mail: leica.nov@leica-camera.ru
Working hours: Monday to Friday from 10:00 a. m. to 10:00 p. m. (7 days a week)
Leica Store Leninskiy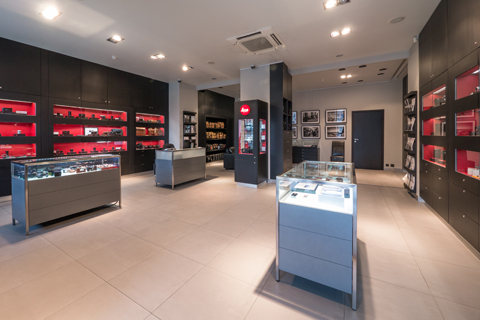 Leica Store in Leninskiy Avenue is the biggest boutique in the Eastern Europe and the first Leica salon in Russia, which was opened in May 2009 in the district previously locating a popular Moscow photographic store that used to be a center of attraction for photojournalists, technical writers and keen photography enthusiasts from the whole Soviet Union. Leninskiy Avenue is not only the government thoroughfare going from Vnukovo Airport to the Kremlin, it is also a "scientific trunk road" of the city. It is in Leica Store on Leninskiy Avenue, where the headquarters of the Russian representative office of Leica Camera AG and the maintenance center for Leica photography equipment are situated. Group and personal classes for Leica Academy students, seminars with famous photographers and photography exhibitions are held here.
The salon represents the complete range of Leica photography equipment, sports and leisure optics, a wide choice of accessories and bags. Here you can use the services of the maintenance center, second-hand department and rent a camera.
Address: 61/1 Leninskiy Avenue, Moscow
Telephone: +7 (499) 727 03 07
E-Mail: info@leica-camera.ru
Working hours: daily from 10:00 a. m. to 10:00 p. m.
Leica Boutique GUM / Odyssey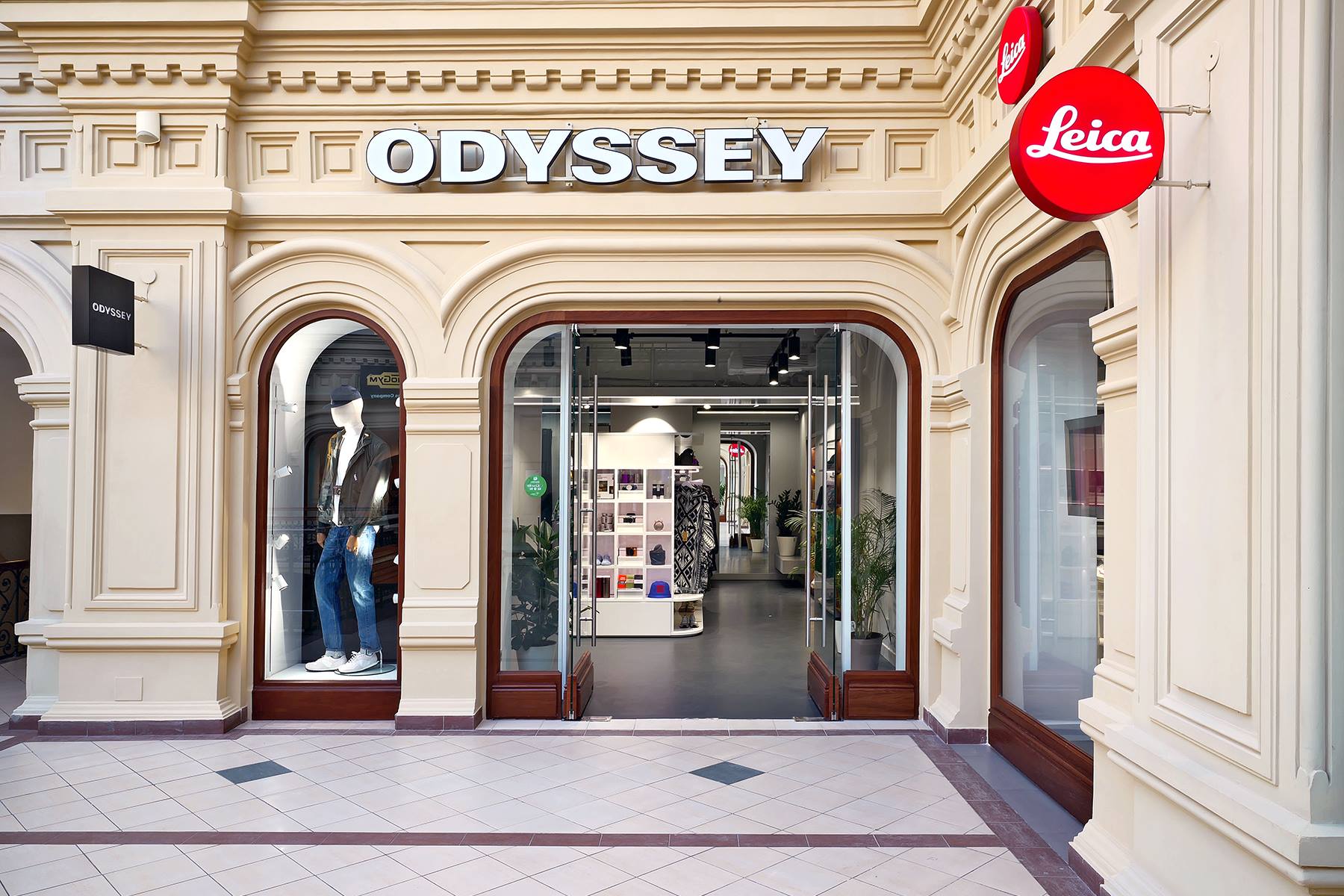 Leica Boutique GUM bangs in the center of the capital – in GUM (Main Department Store of Moscow). GUM was built over 120 years ago by the Russian architect Alexander Pomerantsev, who was innovator and follower of eclecticism style. Continuing the best traditions of GUM's photo-history: a central photography store was located here in Soviet times, and both amateurs and professionals could find rare photo-equipment, Leica Boutique GUM offers the fullest range of products by Leica Camera AG: the famous series of cameras and lenses,as well as large selection of accessories and sport optics, including laser rangefinders, binoculars and telescopes.
The Leica GUM salon is located in Odyssey – new photography space – where you may not only buy photo-equipment, but also all necessary accessories and travel outfits, moreover, print and frame your photos at special desk and make photo-sessions in 50-meter cyclorama studio, fitted with up-to-date illuminating equipment Broncolor.
Odyssey introduces new products among such popular companies, as Hasselblad, Sony, Fuji, Olimpus, Dji, GoPro, and, furthermore, vintage cameras and lenses, a wide range of photography accessories, books and albums, as well as travel clothing and travel accessories for comfort lovers, made by Traditional Weatherwear, Gitman Vintage, Private White, Snow Peak, Spalwart, Mismo and many other brands, which can be found only here at the Russian market.
Address: 3, Red Square, Moscow - GUM (3rd floor, 3rd line)
Telephone: +7 (495) 796 28 16
Website: www.odyssey.moscow
E-Mail: info@odyssey.moscow
Working hours: daily from 10:00 a.m. to 10:00 p.m.